Splash photo by Craig Howard

Dottie McLean tees off at Liberty Lake Golf Course, the community's original golf course. Opening in 1958, the course celebrated 50 years of operation with a significant overhaul that closed the course from September 2008 to the start of the 2010 golfing season.


More News
Cover Story: Fairway flagship
7/30/2014 9:53:04 AM
Splash photos by Craig Howard

Opening in 1988, MeadowWood Golf Course, above, is the youngest of Liberty Lake's three golf courses. At left, Matt Day works on his game at the Trailhead Golf Course driving range. The two courses are publicly owned, MeadowWood by Spokane County and Trailhead by the city of Liberty Lake.

---
By Craig Howard
Splash Contributor
Over the years, Dwight and Karen Canfield have resided in warm weather locales like Arizona and southern California known for their abundance of golf.
These days, the Canfields are perfectly at home in Liberty Lake.
Now retired, the couple lives a 3 iron away from the Trailhead at Liberty Lake Golf Course and can be found navigating the city-owned fairways several times a week. Like many residents of Spokane County's easternmost jurisdiction, the Canfield's primary mode of transportation around town is a golf cart.
"Golf is the principle reason we moved back here," Dwight said.
Karen took up the sport five years ago and said she appreciates "the beautiful surroundings" at Trailhead. Along with the postcard setting of mountain peaks and towering trees, the couple will sometimes have to wait for meandering deer to pass before lining up on the first tee.
"The course is always in really good condition," Karen said. "The groundskeepers do a great job here."
Trailhead is part of a unique trifecta of quality golf venues along with MeadowWood and Liberty Lake that have turned the community into a well-established golf destination and contributed in no small part to glowing reviews from publications like Golf Digest, which once described Inland Northwest golf as "a hidden gem."
Dottie McLean remembers there being "not much at all" in Liberty Lake when she left Spokane in 1960 at the age of 21. Now living in Seattle, McLean returns to her former home every few years to play golf. Last month, McLean teed it up at Liberty Lake, a course that opened two years before she moved out of the area.
"I just love golfing over here," said McLean, who took up the sport in 1999. "It's just lovely. You're not rushed; there are no crowds. Summer is pretty crowded on public courses in the Seattle area, and it's more expensive."
Reasonable rates and prime conditions have translated into a financial boon for Liberty Lake's golf sites. In 2013, combined revenue totaled around $1.4 million from greens fees alone. Trailhead itself brought in close to $420,000 last year, while the city saw approximately $70,000 from a 5 percent admissions tax applied at each course.
"There's the revenue from golf, but there's also a significant benefit in terms of greenspace," said Liberty Lake Mayor Steve Peterson, whose own home sits a putt away from a MeadowWood green. "Plus, it's an important part of Liberty Lake as an active community. We have trails, we have the parks and we have golf."
The city's parks and open space level of service is at a stellar 34.3 acres per 1,000 residents - not counting the three courses. It soars to 79.4 acres per 1,000 when the golf terrain is added. The city also acquired water rights on the Trailhead site - formerly Valley View - when it purchased the property in 2002. Meanwhile, the well at MeadowWood provides irrigation to nearby Pavillion Park.
Those who work in the local golf industry say a profusion of options within city limits has meant increased business, consistent collaboration and a healthy variety of challenges for golfers of all abilities. When representatives of Indian Canyon Golf Course realized the effects of winter would not allow the venue to host the annual Rosauers Open July 16-20, a call was made to MeadowWood.
The course adeptly handled the area's most recognizable tournament with a little help from Liberty Lake across the street, which booked the 400 rounds originally scheduled at MeadowWood.
So, forget Pebble Beach, Turnberry or Augusta - the pastime's new oasis consists of a trio of well-manicured sites in Liberty Lake, home of birdies, bunkers and a bevy of exceptional golf.
Liberty Lake - 'Old Man and the Tee'
Back in 1955, members of the Spokane Country Club purchased 110 acres to the north of Liberty Lake for the bargain price of $18,500. A year later, the group unanimously approved transfer of the land to Spokane County for development. In 1958, Liberty Lake Golf Course became the newest addition to the area's collection of greens and fairways.
Liberty Lake head pro Kit DeAndre began working here in 1988 as an assistant to the late Kaye Walker. Back then, DeAndre, like Walker, split his time between Liberty Lake and MeadowWood. He describes the town's most fabled course as an "old-style par 70 layout."
"That means we have only two par 5s and very challenging par 4s," DeAndre said.
Karen McDonald of Seattle played Liberty Lake over the July 4th weekend and had nothing but accolades for the 6,607 yards of turf, sand and water.
"I think the greens are fabulous," she said. "The fairways are great. It's really in excellent condition. I would definitely come back."
Liberty Lake underwent a massive renovation in September 2008 that added a new irrigation system, a quartet of water features, bunkering, substantial grade changes and expanded greens, among other improvements. The course reopened in May 2010 to overwhelmingly positive acclaim.
"This course has really improved," said Paul Gibb, who lives nearby and golfs here once or twice a week. "It's just a better design, a real modern design. Overall, we're very fortunate with the price and the quality of the courses here compared to the rest of the country."
While the refurbishing has added a new dimension to the venue, Liberty Lake still recalls the homey essence of golf before titanium drivers and GPS rangefinders. The facade of the pro shop and clubhouse looks like something out of a mid-1960s issue of Architectural Digest. It seems plausible that Lee Trevino might just walk through the doors onto the first tee in checkered slacks and his trademark white cap.
Like MeadowWood, Liberty Lake adheres to green fees established by Spokane County. This year, 18 holes run $29 Monday through Thursday, with the price increasing by $2 Friday through Sunday and on holidays.
Golfers here can hone various aspects of their game on separate chipping and putting areas. A spacious sand bunker and grass driving range ($9 for a large bucket of balls) are also part of the practice landscape. Superintendent Todd Harper makes sure the grounds earn consistently high marks.
DeAndre said the proximity of Liberty Lake to MeadowWood along with Trailhead just to the west has made Liberty Lake a unique golfing hub. The variety at each site, Deandre added, "gives players three distinctive choices."
"The mere fact that a community the size of Liberty Lake boasts three very high-quality golf courses in itself marks us as a destination to come and play," he said.
MeadowWood - "The perfect pasture"
When Scott and Tracy Ishino headed across the Cascades from the Puget Sound area last month, they found themselves in the same boat as the Rosauers Open. The couple's annual trip to Eastern Washington includes visits to various golf courses along the route and, this year, a scheduled trip to Indian Canyon was shifted to MeadowWood with exceptional results.
"The weather is nicer and warmer over here, and the golf is more affordable," said Scott. "These greens at MeadowWood are great compared to a few courses we've played in the area already. It's in great shape."
Just over 30 years ago, the only greens in the area were the alfalfa and wheat that grew on acreage owned by Jeslyn Morris Schultz. In 1985, the Schultz family donated 150 acres to Spokane County which, in turn, transitioned the land into an 18-hole golf course. MeadowWood Golf Course officially opened in 1988, part of a burgeoning development trend in the Liberty Lake area that included a residential area by the same name.
Bob Scott worked as head pro at Liberty Lake in 1991 before transitioning to MeadowWood in 1996. When it comes to the condition of the place he calls home, Scott is quick to direct the credit to superintendent Mike Kingsley.
"Literally on a daily basis, people tell me how nice the golf course looks," Scott said. "I make an effort to pass those comments on to Mike because he is the one responsible. It's beautiful with all the water features. The condition is probably the biggest thing. We've never had a bad year in all the time I've been here."
Blake DeMille makes the journey from his home on the South Hill to MeadowWood and says the course "is well taken care of from tee to green."
"First off, it's pretty and well maintained, and second, it's a good challenge but not so tough that I get frustrated," DeMille said.
Scott said the upgrades to Liberty Lake next door have meant a new dynamic for the parallel sites.
"Before, Liberty Lake was the old course and this was the new course," Scott said. "Now what's really neat with the remodeling at Liberty Lake, I think that one's tougher now but this one is a little more user-friendly."
As for the competition between the two venues, Scott said proximity has nurtured excellence.
"I'm competitive, and I know Kit is," he said. "Meanwhile, the superintendents are competing to see which site is nicest. We give each other fun ribbing but, at the same time, we're both part of the Spokane County system. At the end of the day, what we take in and what they take in all goes into the same enterprise fund."
MeadowWood typically opens when spring weather emerges and closes in early November. One year, the course was closed until March 18. Another year, golfers showed up until Nov. 18. Sometimes, closing a few days early can make the difference in the course's condition for the following season.
"We get them when it's 38 or 40 degrees," Scott said. "As long as there's not frost, we're playing."
Like his fellow golf pros in Liberty Lake, Scott says he feels fortunate to work in a golf-centered community.
"You take Liberty Lake with what we have here in terms of golf; I don't think some people even get it," said Scott. "It's amazing."
Trailhead at Liberty Lake - "Municipal marvel"
Ron Dinsmoore had read good reviews of Trailhead at Liberty Lake before he visited the well-kept 63 acres for the first time last month.
A resident of Moscow, Idaho, Dinsmoore has played golf for 20 years but places himself in the "average" category, opting for less harrowing venues while avoiding costly greens fees. It turned out Trailhead was par for the course.
"I think it's a real nice course, very well-maintained and fun to play," Dinsmoore said. "I would play here a lot if I lived here. The fairways aren't super narrow, which is nice, but it's still challenging."
The executive nine-hole venue has been part of the regional golf terrain since 1973, when it premiered as Valley View Golf Course. The city of Liberty Lake purchased the site in 2002, a move initiated by Mayor Steve Peterson and met at the time with reactions that ranged from lukewarm to outright skepticism.
Over the years, Trailhead naysayers have been won over by the city's commitment to excellence. Vast improvements to the grounds, driving range and pro shop have turned the site into one of the region's golf gems.
"The city has done an amazing job with Trailhead," said Bob Scott. "There used to be yellow grass over there."
Former Liberty Lake Finance Director Arlene Fisher - once a skeptic herself - has called the purchase and renovation of Trailhead "one of the best investments the city has ever made."
"It was about adding to the Liberty Lake's reputation as a clean, green, active community," Peterson said. "It's preserved greenspace."
The team of head pro Mollie Thola and golf course superintendent Ron Knudsen helped establish Trailhead as a legitimate golf destination following the transition to the city. The level of attention would earn Trailhead the honor of being rated by the United States Golf Association.
Chris Johnston has worked as head pro at Trailhead since September 2011. He said the course's layout - there are four par 3s, four par 4s and one par 5 - translates into a diverse setting that is heavy on fun and light on intimidation.
Trailhead also offers an expanded schedule that will often see play during mild winters.
"Our course is unique in that it is suited for all abilities," Johnston said. "We have four sets of tees. I would put our par 3s up against any par 3s on other courses."
In the last three years, the city has instituted a slew of upgrades, including new tee boxes, a refurbished clubhouse, new bunker sand and a fresh fleet of golf carts. A state-of-the-art driving range with 14 hitting stalls now features roll-down doors in case of cold or wet weather, an expanded grass tee area and five heated stations.
Matt Day drives to Trailhead once a week during the summer from his home in north Spokane. An avid golfer, Day will work on his technique at the driving range before hitting the Trailhead links "as a way to practice for the bigger courses."
"I've played a lot of courses this year, and this is on par or better than any of the courses I've played," Day said. "A lot of them are letting things slide. They're getting winter mosses. I haven't seen that here. Whoever is taking care of the grounds here is doing well."
At Trailhead, that would be Jennifer Camp, who was brought on by the city as the parks and open space superintendent in January 2011 (read more of her story
here
).
"Jennifer has been very aggressive in her pursuit of green grass perfection," Johnston said. "I think she and her crew are doing an amazing job with the condition of the course."
Despite two courses a minute to the east, Johnston said there are no worries about a glut of golf in Liberty Lake. As for the rivalry between courses and golf pros, Johnston said it's more about collaboration than competition.
"We offer something a little different than the other two courses," Johnston said. "We don't really compete with them. We have a lot of people that want to play and get out of here in two hours or less. If it's raining or even snowing, you can practice on our range and keep warm and dry. Bob and Kit are great. I have known them for a long time. We work together, not against each other."
• • •
Quick facts about Liberty Lake's golf sites

MeadowWood
• The venue was once named one of the top 10 public courses in Washington by Golf Digest.
• Head pro Bob Scott attended Pullman High School with Moses Lake native Kirk Triplett, a three-time winner on the Professional Golf Association (PGA ) Tour who placed sixth at the Master's in 2001 and 2004.
• The aquatic driving range features turtles, carp and floating golf balls.
Liberty Lake
• Austin Reger was named the inaugural head pro when the course opened in 1958.
• A half-year junior pass cost $12.50 in 1959.
• The late Kaye Walker, who served has head pro at Liberty Lake from 1988 to 1993, won the Spokane City Championship twice and qualified for the U.S. Open in 1963.
Trailhead
• In February 2005, during one of the warmest winters on record, the course generated an unprecedented $25,000 in revenue.
• The lower level of the Trailhead pro shop has hosted several meetings of the Liberty Lake City Council.
• A long-envisioned trail along the outlet channel on the west side of the course was completed in 2003. The city's purchase of the course gave flexibility to the trail design.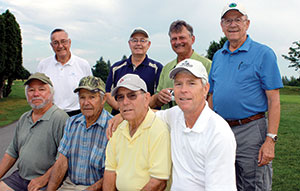 Splash photo by Craig Howard
A segment of the Over the Hill Gang waits to tee off at the Liberty Lake Golf Course last month. Lower row, from left: Jim Hudlow, Bus Hudlow, Lloyd Lancaster and Kelly Lancaster. Top row, from left: Al LaCombe, Dave Ingle, Mike Hauser and Larry Schneiderman.

---
Over the Hill Gang adds shine to golf in golden years
By Craig Howard
Splash Contributor
It is a bright July morning at the Liberty Lake Golf Course, with only a scattering of clouds breaking up a sky of crystalline blue.
On the practice putting green, golfers shuffle about with purpose, tinkering with techniques and waiting their turn to sail a tee shot down the first fairway. In another life, these men were farmers, executives, soldiers, lawyers and aluminum workers - but on this morning, they are all proud delegates of a group known as the Over the Hill Gang.
Each Monday, starting in April and ending with a tournament on Oct. 1, an average of 80 members gather to share memories, opinions and the best strategies for scaling a water hazard or escaping a sand bunker. Everyone here is over 60. The vast majority are retired. All understand that friendship takes precedence over the lowest score.
"What I like most is the camaraderie of the group as a whole," said Larry Schneiderman, the club's current president. "I see groups of fellows laughing and cheering one another on while on the course."
Schneiderman began playing golf in 1966 while stationed with the U.S. Air Force on the island of Luzon in the Philippines. He played sporadically in the decades that followed until he joined the Over the Hill Gang five years ago, discovering quickly that the atmosphere gravitated more toward an amiable bowling league than the U.S. Open.
"There are all sorts of skill levels, but everyone gets along," Schneiderman said.
Established in 1981 by Max Gray, the Over the Hill Gang once exclusively played Liberty Lake Golf Course but shifted next door to MeadowWood in 2008 when their home venue began a major renovation. When Liberty Lake reopened in 2010, the group decided to alternate between the two sites each week.
"We play two of the finest courses in the area," said Jim Thrawley, the club's treasurer, who also served two terms as president.
Thrawley played golf "off and on" when he worked for Kaiser but found a second wind after retirement.
"We have people that have been playing with this group for well over 20 years," he said. "We just want to see people out here on the golf course. It brings people off the couch and away from the TV and out here having fun."
Golfers in the club are divided into "flights" based on skill level. Those in the flight one category comprise the top golfers and are generally grouped in the same foursomes. Flight two and three golfers follow suit. Around half of the club hails from the Liberty Lake area, although some golfers make the trip from communities as far away as Chattaroy and Nine Mile Falls.
Buster "Bus" Hudlow had a hole-in-one on a par 3 at MeadowWood in June. The retired farmer has been part of the club for over 20 years after taking up golf at the age of 67. He will celebrate his 90th birthday next month.
When asked if he has made many friends in the club over the years, Hudlow pauses.
"Well, I suppose," he said. "I don't think I've made too many enemies - that's the good part."
The club charges a $45 annual membership fee and adheres to a constitution and bylaws. Part of the revenue supports junior golf in the area. There are currently 123 members on the roster, though longtime member Al LaCombe recalls when he joined 18 years ago and the number stood at 180.
"There was a waiting list, and you had to apply to join," he said. "The numbers have actually decreased over the years. One of the things that is happened with golf is the new generation isn't getting involved like the World War II vets did."
Mike Hauser suffered a severely injured leg while serving in Vietnam and had never golfed until three years ago when he joined the group. Last year, Mike went through a total hip replacement, but this summer, he has been a regular each Monday, buoyed on by his own personal cheering section.
"That first year, I wanted to quit just about every time I played," Hauser said. "But I'm glad I stuck with it."
On this July morning, Hauser drives his first tee shot straight and true down a corridor of green. His fellow golfers smile and applaud before advancing into the fairway.
"It's a fun group," Hauser says. "We're all rooting for each other."
Advertisement